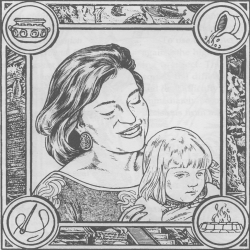 Garlen is a Passion of Barsaive.
Hearth, Home, Healing
Appearance
Edit
Usually a voluptuous woman with arms spread wide in acceptance and invitation. On occassion, Garlen appears as a kindly, comfortable-looking man.
Common Elements
Edit
Homes, children, kaers, enclosed spaces, water.
Healing the wounded, comforting the frightened, protecting homes and travel instantly to any home.
Legends say that Garlen's questors are powerful enough to heal a wound caused by the Blood Magic, however no evidence has yet been found to substantiate these tales.